BECOME A LONG ISLAND DUCKS V.I.P.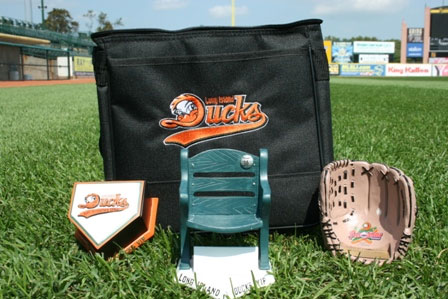 Season ticket packages for the 2016 campaign of Long Island Ducks baseball are now on sale. Fans can purchase ticket plans by visiting the Bethpage Ballpark executive offices or calling (631) 940-3825 and asking to speak with a ticket sales representative.

The Ducks are proud to announce that season ticket holders will continue to enjoy the most benefits and highest savings available for purchasers of Ducks tickets. Prices will remain unchanged for 2016, as the Ducks continue to offer the most affordable family entertainment on Long Island. Benefits of being a season ticket holder include:

-Own the same great seats all season long.
-Entry into the "Duck Club" restaurant/bar on the suite level - Membership has its privileges!
-We'll roll out the red carpet for you -- literally -- with VIP/Season Ticket Holder entrance.
-Early entrance into the ballpark 15 minutes prior to the general public, guaranteeing you the first opportunity to receive that night's giveaway item.
-No more waiting in line or getting shut out at the ticket office for firework nights and premium giveaway nights.
-Enjoy discounted prices on all official team merchandise at the Waddle In Shop.
-Playoff game tickets are included.
-FREE Season Ticket Holder VIP Gift every year.
-Invitation to FREE annual Season Ticket Holder BBQ, including meet-and-greet with Ducks players and coaches
-Name and photo on scoreboard during games as part of our "Meet the Flockers" season ticket holder recognition program
-No ticket goes unused! Season ticket holders may make a tax-deductible tickets donation to "Seats of Dreams" for those less fortunate. CLICK HERE to read a story about a special day enjoyed by fans, courtesy of "Seats of Dreams"
-As always, parking remains FREE!
-Unbelievably affordable pricing:
The price for 2016 Season Tickets is as follows:
Field Box Seats: $10/seat (That's over 20% off Box Office pricing!)
Box Seats: $9/seat (That's 25% off Box Office pricing!)
Duck Club Seats: $13/seat (dedicated waiter/server with seating upstairs on the club level at a 13% discount!)
In addition to these great benefits, there are many other reasons to get Season Tickets. CLICK HERE to see 70 of them; one for every regular season game.
CONTACT US

For information and to secure your seats, feel free to fill out the form below, and we'll have a ticket sales expert contact you. You can also visit the Bethpage Ballpark box office or contact us by phone or e-mail:

Phone: 631-940-DUCK (3825)
Email: tickets@liducks.com