Scout Sleepover Night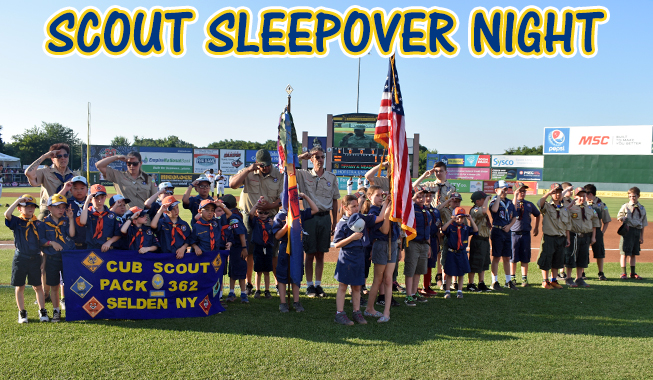 Scout troops to have opportunity to camp out on field at Bethpage Ballpark

The Long Island Ducks have announced the club will host its first-ever Scout Sleepover Night at Bethpage Ballpark on Friday, July 17. Scout troops will have the opportunity to watch the Ducks face the York Revolution at 6:35 p.m. and then camp out overnight on the playing field.

Scout Sleepover Night tickets are $25 each and include the following:
Ticket to the Ducks July 17 game against the York Revolution
Opportunity to camp out with fellow scouts in the outfield following the game
Movie played on DuckVision videoboard during sleepover
Bag of popcorn and bottle of water
A commemorative Ducks Scout Sleepover patch
The sleepover is available exclusively for scout leaders, scouts, and one parent or guardian per scout if the scout guideline requires. However, families and friends of scouts may purchase tickets with their troop to attend the game only at a discounted rate of $11. Scout troops must reserve a minimum of 25 tickets to take part in Scout Sleepover Night. Troops will be required to depart the ballpark prior to 8:30 a.m. on Saturday, July 18. Any additional information will be announced at a later date.
UPDATE: Currently, all spaces have been reserved for this year's Scout Sleepover Night. However, reservations are now being accepted for scout troops to be added to the waiting list, should spaces become available. Those wishing to be added to the Scout Sleepover Night waitlist should call the Ducks group sales department at (631) 940-3825 or fill out the form below.