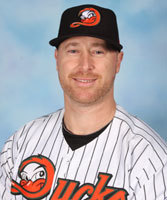 Position: Bench Coach
Date of Birth: 08/12/1976
Height: 6' 0" Weight: 190 lbs
Bats: R
Throws: R
Resides: Central Islip, NY
Highest Level: MLB

Biography:


Ford begins his eighth season as a member of the Ducks and fourth as a player/coach. Ford is the Ducks' all-time leader in batting average, hitting at a .338 clip since joining the team in 2009. He has spent time with Long Island in each subsequent season with the exception of 2010. In 476 games with the Flock entering 2017, the 40-year-old has totaled 52 home runs, 309 RBI, 338 runs and 138 doubles. The Central Islip resident began his foray into coaching during the 2014 season as the team's hitting coach and then served in the role of bench coach in both 2015 and 2016.

The Texas native played in 60 games with the Ducks during the 2016 season and hit .305 with five home runs, 30 RBI, 30 runs and 15 doubles. He also spent the majority of the 2015 season with Long Island and compiled a .364 batting average with eight home runs, 63 RBI, 47 runs, 28 doubles and a .432 on-base percentage in 75 games. Ford was named the Atlantic League's Player of the Year in 2014 after breaking league records for hits (189) and games played (140). He also earned back-to-back Atlantic League All-Star Game selections in 2014 and 2015.

The six-year Major League veteran has played 519 career games at baseball's highest level. In five seasons with the Minnesota Twins and one with the Baltimore Orioles, he has posted a .268 batting average with 35 home runs, 176 RBI, 235 runs and 83 doubles. In 2012, he became the 13th player in Ducks history to reach the Major Leagues after playing on Long Island when the Orioles called him up in August. He went on to hit .375 with one RBI and two runs in four postseason games. Ford was originally drafted by the Boston Red Sox in the 12th round of the 1999 amateur draft. In a corresponding roster move, outfielder Nolan Reimold has announced his retirement. The eight-year MLB veteran played in 19 games with the Ducks and hit .238 with two homers, seven RBI, six runs and four doubles.